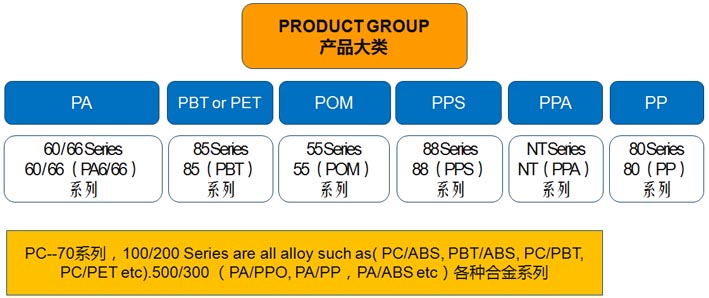 Polystar is specialized in the production of thermoplastics compounds such as PA66, PA6, POM, PP, PBT, PET, PC, ABS, PPS, PC/ABS alloy and PC/PBT alloy. All these offerings well done in reinforcement, toughness and flammability, resistant to wear/weather/oil/hydrolysis/heat, and perform excellent in thermostability, electric insulation, antistatic and self-lubricating property¡­ Furthermore, Polystar produces variety of plastic alloys and functionalized masterbatches.
A. PA6 & PA66 engineering plastics specialized for high-performance automotives
PA6 & PA66 engineering plastics specialized for high-performance automotives is a strong product in Polystar. We can provide auto parts manufacturers with materials tailored to the requirements for strength/ toughness/ flammability/ wear-resistance/ weathering/ oil-resistance/ hydrolysis defense/ temperature keeping/ heat-resistance/ conduction/ ESD-free/ self-lubricating property, some of which can totally replace imported materials and have stable quality at competitive price.
These materials can be used to produce automotive compounds such as high-temperature resistant plastics parts, wheels protection parts, light decorative parts, tension wheels, handles, fuse boxes, high-voltage annex accessories, electronic infections, block terminals, ties, circuit breakers, bearing keeping shelves, power tool shells, high-performance gears, stent skates, circuit stents, textile accessories, auto-curtains¡­
B. Modified POM materials (55 series)
Modified POM materials that Polystar can provide includes: glass fiber reinforced; glass bead filled; mineral filled; Carbon fiber reinforced; MoS2 filled; wear resistance; silicone oil filled; General Motors¡¯ wear resistance; standard wear resistance; standard without filler; high impact resistant malleability, standard weathering suited; PTFE filled and conductive plastics. Besides, we can supply products with special functions to customers¡¯ requirements. POM offerings are usually used in plastics parts of gear, wheel, cam, slider, frame, grip, handle, pumps, valves, zipper, auto-buckle, OA office equipment shells, business equipment parts, machinery and other equipments.
C. Modified PP/PE materials (80 series)
80 series products are mainly used in auto-light, air Filter, shield, airbag cover, toolbox, auto-door, appliance shell, bumper, instrument board, fan leaf, furniture part, vacuum cleaner part, warp pipe, impeller, and electronic part. PP offerings can be used in power tool shells and other plastics parts to partially replace PA+30% GF, and cut off around 40% of the material costs.
D. Modified PC¡¢PET¡¢ABS¡¢PC/ABS¡¢PC/PBT materials
Modified PC¡¢PET¡¢ABS¡¢PC/ABS¡¢PC/PBT materials can be used into electronic device shells, auto-light shell, instrument board, paper feed board/ slide way of printer, power tool shells, business equipment parts, textile accessories , electronic tape¡­
E£®Modified PBT/PET materials (85 series)
85 series materials are mainly used in auto connectors, switches, furniture bases, electric breakers, sockets, terminals, hood covers, handles, auto-light decorative frames, electronic components, auto-inner-accessories and auto-lock systems¡­
F. Modified PPS, PPA (PPS+GF&PTFE) and other special modified plastics (88.99 series)
These materials are mainly used in kinds of mechanical wear-resistant and high-rigidity parts such as auto connector, wheel, auto-light framework, auto-lock system etc.